Course offerings and referral list
Breastfeeding Education Course
This interactive 3 day, 20 hour training is designed to help you become more proficient when offering breastfeeding education, improve your knowledge and skill base, bring new perspectives about breastfeeding and help you learn how to support families to meet their feeding goals.

If in Canada, click HERE to register.

If outside of Canada, click HERE to register.
Course Dates / Location:
October 26-28, 2023
9-5 pm each day.
Two ways to attend—in person St.Thomas, ON, or virtual via Zoom.
Facilitators:
Attie Sandink RN, IBCLC, CLE® and Lori Cowx RN, IBCLC, CLE®. Attie has decades of experience in the lactation field, and Lori had the good fortune of doing her IBCLC internship with her. Together they have over 60 years of nursing experience. They are both passionate about helping families achieve their breastfeeding goals, and are excited to assist others to do the same.
Who should attend?
Doctors, Midwives, RNs/RPNs, Doulas, Chiropractors, Pharmacists, Naturopaths, Osteopaths, Dieticians, Nutritionists, Massage Therapists, or anyone interested in learning about lactation and breastfeeding who provides care to mothers and babies.
Some of the topics covered include:
– The history of breastfeeding and current state of lactation worldwide
– The properties of breastmilk and importance of breastfeeding
– Anatomy and physiology of the breast
– Successful Starts – how to support breastfeeding families in the first hours, days and weeks after birth and beyond
– Breastfeeding and the hospital experience
– Nutrition during lactation
– Maternal challenges during lactation
– Infant challenges during lactation
– How do partners fit into the breastfeeding relationship?
– Cultural competency
– Communication skills and teaching the adult learner
– and much more
This course satisfies the following:
The Core Competencies in Breastfeeding Care and Services for All Health Professionals as outlined by the United States Breastfeeding Committee (no endorsement by the USBC is implied). Ideal for labor and postpartum doulas, WIC staff, public health employees, and anyone looking to offer lactation education.

The World Health Organization/UNICEF Competencies Curriculum to support the Baby Friendly Hospital Initiative. Ideal for hospital staff, pediatricians, obstetricians, midwives, and PAs specializing in maternity care.

The CAPPA Lactation Educator™, CLE® or CAPPA Community Educator™, LE(C) certification steps for workshop attendance. Ideal for anyone wanting to become a Certified Lactation Educator™, CLE®.

Offering 21.25 L-CERPS and 24 CAPPA Contact Hours. RD and nursing contact hours potentially available on request.
Cost:
$650 early bird until Sept 30, 2023

$695 from Oct 1st, 2023

$50 off groups of 3 or more participants

Plus applicable taxes if registering in Canada.
Registration:
If in Canada, click HERE.

If outside of Canada, click HERE.
Event Poster: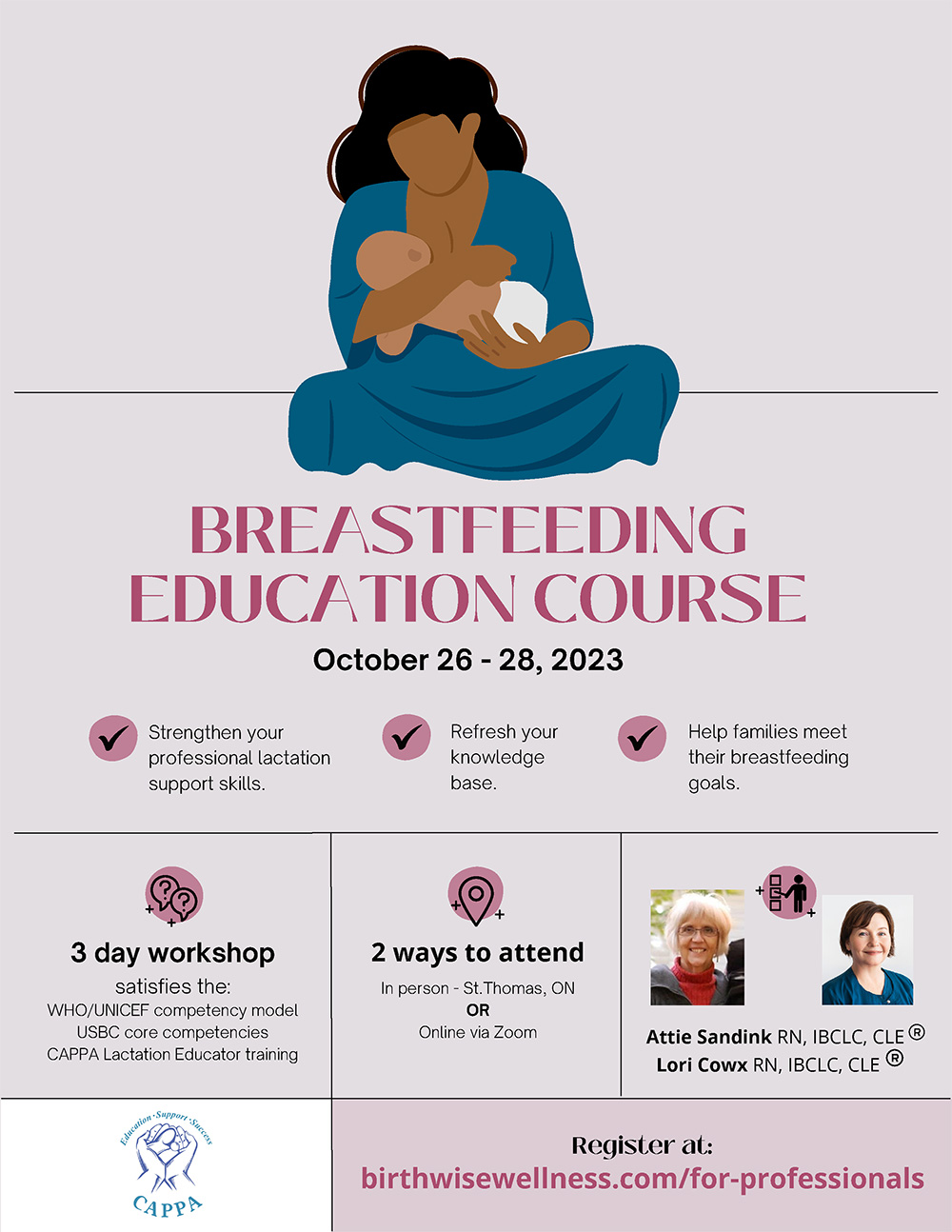 Click HERE or on the image above to download a printable version of the event poster.
I'm building my practitioner referral list and would love to connect. Please have a look around my website and get in touch!
226-342-5003
Call for more information.

info@birthwisewellness.com
Send us an email, we'd love to hear from you!
Kind Words
April 23, 2022

It is my great pleasure to recommend Lori Cowx. I had the opportunity to work with Lori when we were both interns at Birth and Baby Needs in 2021 and 2022.

I was immediately impressed by Lori's communication skills, knowledge base and her passion for continuing education. Her knowledge foundation is evidence-based, and she continues to seek out emerging developments in the field. Lori is a natural educator and exemplified this as she taught mothers, their support people, and her fellow interns about lactation, breastfeeding and breastfeeding support. She has a strong ability to express information in an accessible and meaningful manner. Expectant parents find Lori's prenatal classes engaging, informative, relevant and complete. I found Lori to be a reliable, dedicated and helpful co-worker.

Lori is passionate about breastfeeding and its value for babies, mothers, families and society.

Kind regards,

Dr. Lynda Newkirk, MD, CCFP
St. Joseph's Healthcare, Hamilton, Ontario, Canada
April 27, 2022

It is my pleasure to recommend Lori Cowx. I am a Chiropractor and current Lactation intern. I met Lori while working in the clinic with our mentor. Lori and I interned together for the last year learning how to support breastfeeding dyads in our community. Our team of interns came from multiple health and wellness backgrounds, creating a very unique learning environment. The way in which we were able to work as a team on each case allowed for the opportunity to get to know one another's strengths on both a professional and personal level.

Lori's qualifications and clinical experiences were a major addition to our team, and she brought a wealth of knowledge and ease in dealing with clients. She is very passionate about breastfeeding and her strong communication skills made it easy for families to work with her. Lori's organizational skills and reliability are unmatched. She was always the first one in the clinic and was able to keep the flow of the day going smoothly. Her pace and efficiency helped her in multitasking to work with multiple families at a time if needed, while still upholding her standard of care. She also had excellent charting skills and passed on some methods we are all still carrying through today.

Lori is extremely friendly and easy to get along with. She was gentle and sensitive in working with families, and showed a great intuition in what her clients needed in the moment. She was definitely someone we all looked up to during our internship together.

Sincerely,

Lauren Jenkins, DC